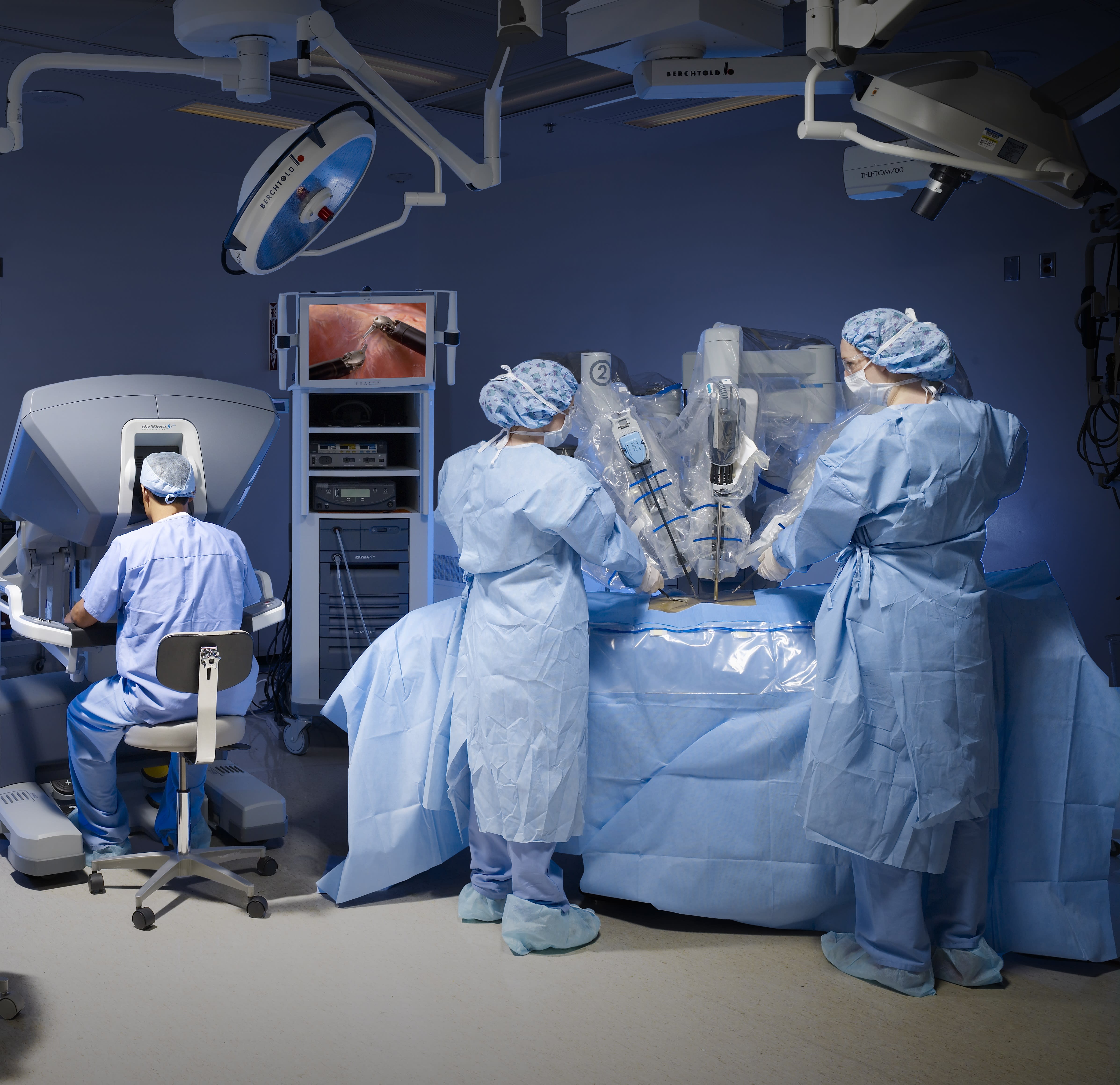 If you or a loved one has been diagnosed with a condition that may require surgery, you owe it to yourself to learn about all of your medical options, including the most effective, least invasive surgical treatments available.
The da Vinci Surgical System provides surgeons with an alternative to both traditional open surgery and conventional laparoscopy, putting a surgeon's hands at the controls of a state-of-the-art robotic platform.
Benefits of da Vinci surgery
The da Vinci system enables surgeons to perform even the most complex and delicate procedures through very small incisions with unmatched precision. This minimally invasive robotic surgery includes benefits such as:
Significantly Less Pain
Less Blood Loss
Less Scarring
Shorter Recovery Time
A Faster Return to Normal Daily Activities
And in Many Cases, Better Clinical Outcomes
As with any surgery, these benefits can't be guaranteed, as surgery is both patient and procedure specific.
da Vinci procedures
The surgeons at CarolinaEast Health System can use da Vinci robotic-assisted surgery to perform numerous types of procedures. A few examples include:
Single-site cholecystectomy. The vision, dexterity and control provided by the da Vinci single-site technology allows the surgeon to remove the gallbladder through a single incision.
Heller myotomy, Nissen fundoplication and paraesophageal hernia repair. Da Vinci foregut surgery represents the state-of-the-art approach for surgical treatment of gastroesophageal reflux disease (GERD), achalasia, and hiatal hernias. Use of the da Vinci Surgical System allows anatomical repair, extensive mediastinal esophageal mobilization, facile short gastric dissection, and the ability to perform a fundoplication with a precise minimally invasive approach.
Colorectal surgery. Benefits of a robotically assisted approach to colorectal surgery include a faster return of normal bowel function and a quicker return to a normal diet.
Gynecologic surgeries such as hysterectomy, myomectomy and sacrocolpopexy. A da Vinci robotic-assisted surgery gives your surgeon excellent visualization of anatomy when performing these complex procedures. The da Vinci robotic technology has enabled gynecologists to offer an effective minimally invasive approach compared with conventional laparoscopic or open laparotomy.
Hernia surgery. Research suggests that a robotic-assisted hernia repair can offer benefits such as less disruption to daily activities and less pain. In fact, one study found that 86 percent of people who had this surgery weren't using pain medication one to two weeks later.
Thoracic (chest) surgeries, such as lobectomy. The da Vinci lobectomy enables precise anatomical resection along with complete lymph node dissection. Potential benefits include a lower risk of infection, a faster recovery and less time with a chest tube.
Nephrectomy. This surgery removes all or part of a kidney. It can be used to treat kidney cancer. Possible benefits of a da Vinci nephrectomy include fewer complications and better kidney function after surgery.
Prostatectomy. This surgery removes the prostate gland and is a possible treatment for prostate cancer. Potential benefits of a da Vinci prostatectomy include a faster return of sexual function and urinary continence.
Talk to your doctor
While clinical studies support the effectiveness of the da Vinci system when used in minimally invasive surgery, individual results may vary. Surgery with the da Vinci Surgical System may not be appropriate for every individual. Always ask your doctor about all treatment options, as well as their risks and benefits.