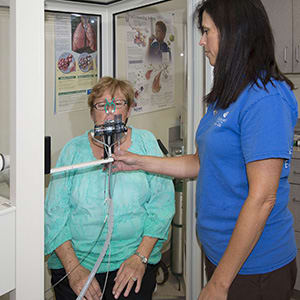 If you're having difficulty in breathing or perhaps, have a cough for more than 3 weeks, it's important to see a pulmonologist right away to determine the root cause of these ailments. Here at CarolinaEast Health System, we take pride in having a great pulmonology department that provides holistic care that is close to home.
Whether you're experiencing trouble breathing and don't know why or have already been diagnosed with a respiratory condition, our team will provide the expert care you need, close to home.
Our team will make sure you feel like a full partner in your treatment by taking the time to help you understand exactly what's going on and what your options are. We'll also make every effort to understand your goals and tailor treatment options to suit your needs.
Lung and respiratory specialists
Our highly trained pulmonologists and respiratory specialists are experts in diseases and conditions of the chest and are committed to offering each of our patients the most current treatments and services available.
We can diagnose and treat a wide range of respiratory conditions, including:
Asthma.
Emphysema.
Chronic bronchitis.
Lung cancer.
Chronic obstructive pulmonary disease (COPD).
Pulmonary fibrosis.
Cystic fibrosis.
Pulmonary hypertension.
Sarcoidosis.
Make an appointment with a pulmonologist
CarolinaEast's pulmonology department is located at the CarolinaEast Internal Medicine Pollocksville office. To schedule an appointment, call 252.635.3267.