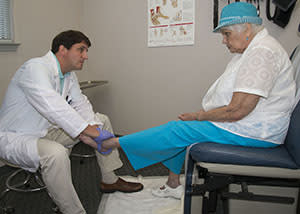 CarolinaEast Health System's podiatry department offers individualized foot and ankle care for infants to seniors alike. We understand that a foot or ankle condition can seriously impact a patient's life, and our goal is to alleviate the pain and restore each patient's quality of life. Our board-certified podiatrist, James (Graham) Underhill, DPM, offers the full range of podiatry treatment options from preventive care to advanced treatments.
We have expertise in treating the full range of foot and ankle conditions, including:
Arthritis.
Injuries.

Sprains.
Strains.
Fractures.

Muscle and tendon problems.
Skin disorders.

Athlete's foot.
Calluses and warts.
Psoriasis.
Foot skin cancers.

Toe joint and nerve disorders.

Bunions.
Hammertoes.
Neuromas.

Toenail problems.

Ingrown toenails.
Fungus.