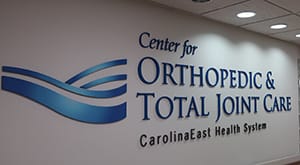 If joint pain is slowing you down and keeping you from living the life you want to live, help is available.
The CarolinaEast Center for Orthopedic & Total Joint Care offers the expert care you need to get back to the activities you enjoy.
Patients from all over coastal Carolina turn to our orthopedics department to have their joints and hips to be evaluated and get treated.
Our orthopedics department's commitment to excellence is demonstrated in quality measures such as these:
We are ranked in the top 10 percent of hospitals in the nation for medical excellence in joint replacement and patient safety in overall orthopedic care by Comparion Medical Analytics.
We've received the Women's Choice Award for America's Best Hospitals for Orthopedics for several years, including in 2018.
We have excellent patient satisfaction scores in Press Ganey surveys of discharged patients.
Our orthopedic doctors and team
By giving your trust to our orthopedics department, you can count on receiving individualized care based on evidence-based best practices.
It's not just what we do, but how we do it that makes the biggest difference. Each member of our team will take the time to build a relationship with you and your family. We'll communicate everything you need to know about your condition and make sure you understand all your treatment options.
Experts in joint replacement surgery
If joint replacement surgery or another orthopedic procedure is needed, we offer education classes that will help you prepare.
Once surgery is complete, our therapists and nurses will work with you to help you prepare to go home and to make sure you get the best possible outcome.
After you're home, we will call to make sure you have the right equipment, medications and follow-up appointments and to answer any questions you may have. You will be given a direct number to contact us with any concerns.
Learn more
For more information about our orthopedics department or to register for our joint replacement preoperative sessions, call 252.633.8212.