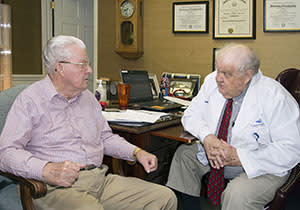 Choosing an internal medicine or primary care doctor for yourself or your family is one of the most important healthcare decisions you will make.
Here are some of the reasons why CarolinaEast's internal medicine in North Carolina is the best fit for you and your family's healthcare needs.
A Personal Approach to Primary Care
We understand that you want a primary care doctor who understands your concerns and whom you can trust. Our goal is to make you feel at ease.
Expert Internal Medicine Services
CarolinaEast Internal Medicine offers our patients access to cutting-edge care, including a wide range of outpatient procedures and medical testing in facilities that are close to home. We even have in-house laboratories and an endoscopy center.
Your internal medicine doctor will also coordinate your care with other healthcare professionals you need to see.
Convenient Primary Care Clinic Locations
We know that comfort and convenience matter, along with finding everything you need in one place. That's why we offer locations throughout coastal Carolina.
To schedule an appointment, contact one of our offices or call CarolinaEast Internal Medicine at 800.676.8221.
Pollocksville
Highway 17 South
252.633.1010
New Bern
Berne Square
252.638.4023
Havelock
532 Webb Blvd.
252.447.7088
Cape Carteret
916 WB McLean Drive
252.393.9007
Vanceboro
620 Farm Life Ave.
252.244.1785
Jacksonville
4275 Western Blvd.
910.938.3099