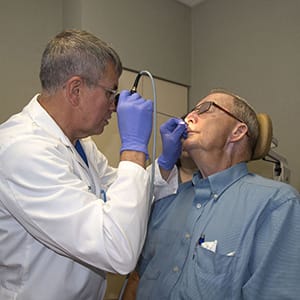 Ear, nose, and throat (ENT) disorders can have a dramatic effect on your quality of life.
If you're experiencing trouble hearing, dizziness, swallowing problems, allergies or other related issues, you can get the excellent care you deserve that is close to home at CarolinaEast Health System's ear, nose, and throat department.
Ear, nose and throat conditions we treat
Our team of ear, nose, and throat specialists is highly trained and can provide a full range of treatment options, including surgery when necessary, for people of all ages.
Conditions we often help people with include:
Allergy and sinus disorders. Our practice offers advanced allergy care with testing and allergy immunotherapy available if other treatment options are not successful in treating your allergy problems.
Balance disorders and dizziness.
Chronic sore throat and tonsils.
Ear problems, including hearing loss.
Snoring and sleep apnea.
Speech and swallowing disorders.
Thyroid disorders.
Our ENT doctors and specialists
CarolinaEast has a caring and experienced staff who will be with you from evaluation of your symptoms through treatment and follow-up care.
Our team includes:
Board-certified otolaryngologists. These ENT doctors will conduct a thorough assessment of your symptoms. They'll also take the time to clearly explain what's going on and make sure you understand your treatment options.
Audiologists. Each of our offices has an audiologist who is trained at the doctorate level. Our audiologists can help you with ear, hearing and balance problems. They can also dispense hearing aids, if needed.
Three CarolinaEast ear, nose, and throat clinic locations
Contact us at one of the following locations for more information or to schedule an appointment.
CarolinaEast Ear, Nose & Throat – New Bern
3110 Wellons Blvd.
New Bern, NC 28562
252.638.2515 | 800.638.2515
CarolinaEast Ear, Nose & Throat – Morehead City
4725 Country Club Road
Morehead City, NC 28557
252.247.3257
CarolinaEast Physicians – Jacksonville
241 Freedom Way
Jacksonville, NC 28546
910.219.8080