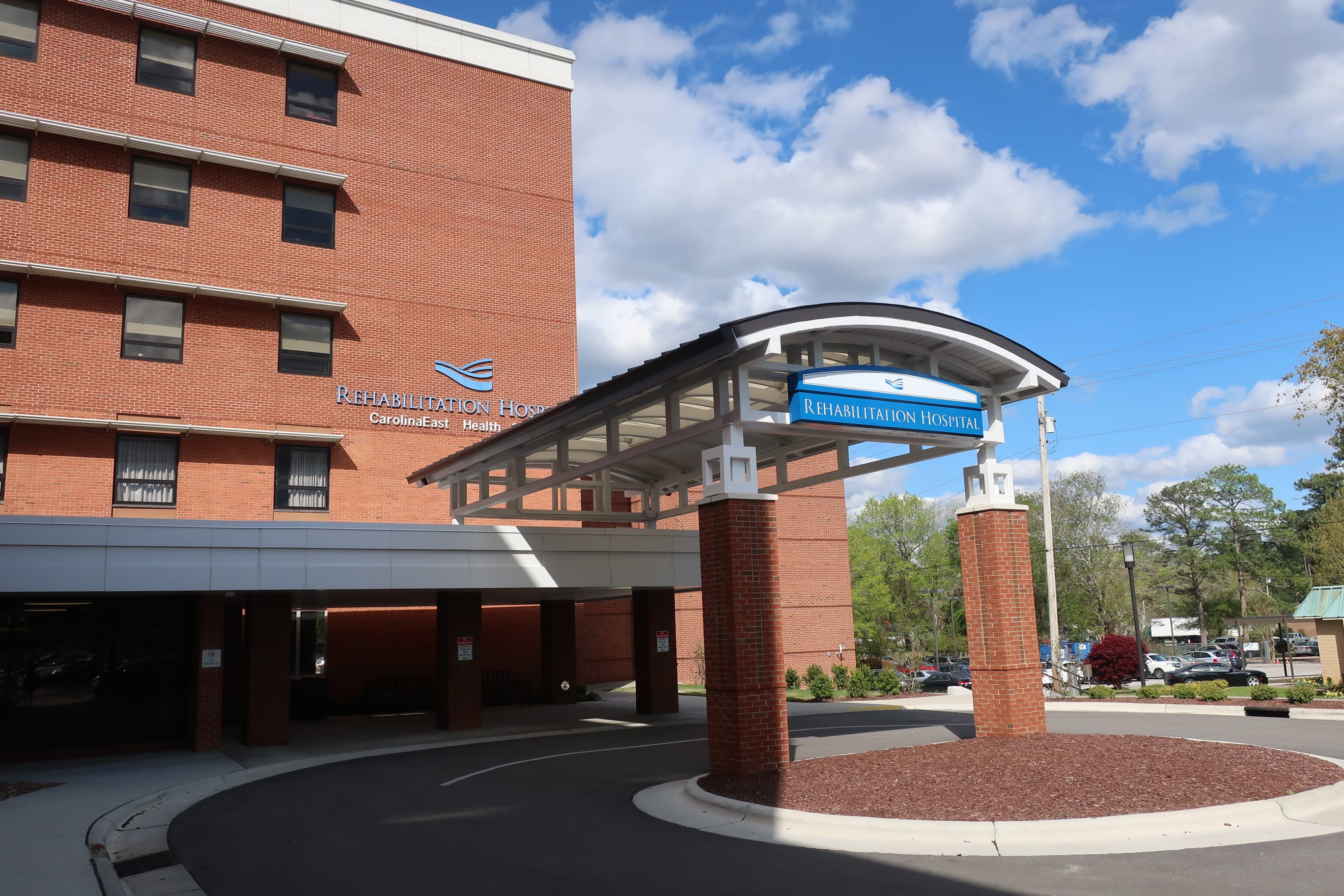 CarolinaEast Rehabilitation Hospital is a comprehensive medical rehabilitation facility serving coastal Carolina.
We're proud to say that we've helped thousands of people regain their independence after an illness or injury.
Admission for inpatient program in CarolinaEast Rehabilitation Hospital
To be eligible for admission, patients must be medically stable, meet medical necessity guidelines, be able to tolerate a minimum of three hours of therapy each day and have a suitable discharge destination.
CarolinaEast Rehabilitation Hospital also requires a referral from your primary care provider or another medical professional.
Location and visiting hours
The rehabilitation hospital consists of 20 beds and is located on the first floor of CarolinaEast Medical Center.
We ask that general visits do not take place during scheduled therapy times—though we encourage family and caregivers to observe and participate in therapies as much as possible.
Normal visiting hours end at 8:30 p.m.
Our rehabilitation team
The rehabilitation hospital team includes different specialists. Each of these professionals is highly trained and practices according to the specific guidelines established by their discipline.
Team members include:
A physiatrist. This doctor specializes in physical medicine and rehabilitation and is responsible for prescribing tests, diets and treatments while you are in the rehab program.
A psychologist. Recovering from a serious medical condition in a rehabilitation hospital can be challenging and may involve a variety of life changes. The rehabilitation psychologist will assess cognitive function and emotional health and help you and your family cope with any emotional difficulties that may arise during rehabilitation.
Therapists. Our inpatient therapy team includes specialists in physical, occupational, recreational and speech therapy.
Nurses. Specially trained nurses are on duty 24 hours a day at our rehabilitation hospital. They are there to offer support and education and help keep you as comfortable as possible.
A social worker/case manager. This team member serves as the liaison between patient, family and rehab team and keeps the family informed of the patient's progress. The social worker/case manager also coordinates discharge planning and makes any needed referrals for services or financial assistance.
An orthotist/prosthetist. If you need a custom brace or a prosthetic limb, our team can custom-fabricate it and show you how to use it.
Outpatient therapy services
CarolinaEast Rehabilitation Hospital's outpatient program has licensed therapists that specialize in treating adults with orthopedic injuries, neurological conditions, vestibular disturbances, hand injuries, speech and swallow impairments, as well as many other conditions. Our outpatient clinic offers the following services:
Occupational therapy.
Physical therapy.
Speech therapy.
Orthotics/Prosthetics.
Lymphedema program.
Videofluoroscopic swallow studies.
Ostomy support services.
Dysphagia program.
Cognitive rehabilitation.
Cardiopulmonary rehabilitation
Cardiopulmonary Rehabilitation is a medically supervised and individualized exercise program dedicated to improving the quality of life of patients with heart and lung disease through exercise, education and support from cardiac and pulmonary professionals.
The CarolinaEast Medical Center cardiopulmonary rehabilitation program is certified by the American Association of Cardiovascular and Pulmonary Rehabilitation.
For more information call 252-633-8609 or fax 252-634-6235.
Community programs and specialty clinics
At CarolinaEast Rehabilitation Hospital, we believe that education can empower people to improve their overall health. To help, we offer a variety of support groups and clinics.
Amputee Clinic. Our specialized clinic for amputees includes medical management, prostheses and physical therapy. We also provide instruction in skin care and cardiopulmonary conditioning.
Amputee Support Group. This group is led by our department of physical therapy and offers support, education and socialization for amputee patients, family and friends.
Aphasia Support Group. Hosted by our speech-language pathology department, this group is for people affected by aphasia (loss of expressive and/or receptive language) following stroke or other brain injury. Family members and friends are welcome.
Ostomy Support Group. This group is led by a certified wound ostomy continence nurse and is made up of ostomy patients who wish to share personal experiences. Various speakers are invited to present educational information.
Stroke and Brain Injury Support Group. Hosted by our speech, occupational and physical therapists, nursing and other medical professionals, this group is intended to share information on your recovery from a stroke or brain injury with others that are affected. Family members and friends are welcome.
Wheelchair Clinic. In this clinic, our specialists custom-fit people with the right kind of wheelchair for their needs and train them on the proper use of their new chair.
Learn more by calling CarolinaEast Rehabilitation Hospital at 252.633.8020 or view a calendar of programs and events here.