At our American Heart Association accredited Cardiovascular Center of Excellence, you'll find the expert care your heart needs.
We've built a comprehensive cardiac program led by skilled cardiologists, cardiovascular surgeons and a highly trained cardiac support staff. And we're continually expanding our cardiovascular services in North Carolina to make sure we include the latest in interventional, surgical and cardiac arrhythmia procedures.
Our commitment to excellence is supported by a variety of awards and distinctions from respected third parties.
We're the only healthcare provider in eastern North Carolina to receive designation as a Blue Distinction Center for Cardiac Care several times. The prestigious recognition by the area's leading health insurer, Blue Cross and Blue Shield, is only given when an all-encompassing cardiac program delivers the best cardiovascular services.
Because of our commendable cardiovascular services, we've also received numerous awards from respected organizations such as Healthgrades, Action Registry, American Heart Association, Women's Choice/Women's Certified, and CareChex. We are also accredited by the American College of Cardiology as a certified Chest Pain Center.
Here's a look at some of the many cardiovascular services we offer:
A comprehensive cardiac catheterization lab
Cardiac catheterization is a valuable tool in the diagnosis and treatment of heart disease.
The highly trained experts at our cath lab can perform a wide range of procedures including atherectomy, angioplasty and stent placement. These procedures help improve blood flow, prevent damage from a heart attack and minimize the need for surgery.
Ours is the only hospital in the state of North Carolina with an accredited cath lab by the American College of Cardiology.
Arrhythmia expertise in the electrophysiology (EP) lab
Our EP lab offers a wide range of diagnostic and treatment options for abnormal heart rhythms, including the latest advancements in ablation therapy and implants like pacemakers and heart failure devices.
Our team of highly skilled heart doctors can tailor a treatment plan to meet a patient's unique needs.
Skilled heart surgeons and exceptional inpatient care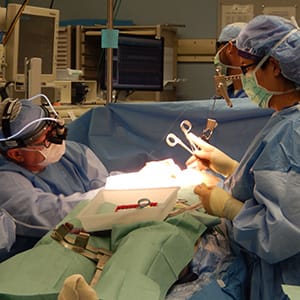 When surgery is needed, our skilled cardiac surgeons use the latest techniques, including off-pump coronary artery bypass, robotically assisted surgery and valve replacement to restore the heart to optimum performance.
Highly specialized inpatient care units are designed to care specifically for heart patients during their recovery. Immediately after surgery, patients are cared for in the cardiovascular intensive care unit (CVICU). Usually within 24 hours, patients are moved to cardiovascular intermediate care (CVIMC), where they are sitting up and walking as soon as possible.
Other cardiovascular services: Cardiac rehabilitation and support groups
Our commitment to your cardiac health doesn't end after you've received our comprehensive cardiovascular services in the facility.
CarolinaEast Health System was the first hospital in the East to offer outpatient cardiac rehabilitation, a lifestyle modification, education and exercise program designed to help maintain heart health.
In addition, various support groups help people with heart disease and their families manage the resulting lifestyle changes through friendship and education.
Cardiology locations close to home
CarolinaEast offers cardiovascular services in a variety of locations, ensuring that lifesaving care is easily accessible to everyone in coastal Carolina.
CarolinaEast Heart Center
In New Bern:
1001 Newman Road
New Bern, NC 28562
252.635.6777
In Morehead City:
4252 Arendell St., Suite E
Morehead City, NC 28557
252.808.0145
In Jacksonville:
4275 Western Blvd.
Jacksonville, NC 28546
910.938.3099
CarolinaEast Cardiac, Thoracic and Vascular Surgery
960 Newman Road
New Bern, NC 28562
252.633.6730