Thank you for entrusting us with your care. In addition to finding the most recent medical technology at CarolinaEast, you will also find a comforting hand to hold.
Your room
Your hospital room is chosen for you based on your admitting diagnosis and bed availability at the time of your admission. Nursing staff will orient you to your room. If you have any questions, please ask.
The bed in your hospital room may be narrower and higher than your bed at home. It is equipped with a nurse call button, telephone and television remote control. The bedrails are for your protection and may be raised while you are resting, recovering from surgery or on certain medications.
We have recently expanded available television stations in all hospital rooms for your viewing enjoyment. Channel availability can be found on channels 7 and 12. Relaxing music and peaceful scenery can be enjoyed on channel 40. Learn more about what to expect during your time with us on channel 41.
Your healthcare team
It is our physicians who will lead your healthcare team and determine what's necessary to return you to good health. You may be cared for by your primary care physician and physicians providing special consultative services for him or her. While you are our guest, your attending physician may be a hospitalist. This is a doctor specially trained in the care of hospitalized patients. Your primary care physician has chosen to allow the hospitalist to direct your inpatient care. Please know, your personal doctor is welcome to take care of you during your hospitalization if he or she has maintained active admitting privileges. If your doctor chooses to allow the hospitalist to take care of you while you are our guest, the hospitalist is in regular communication with your primary care provider—admission and discharge information is shared as well as contact information so he or she can be in regular communication with the hospitalist.
Nurses and patient care technicians will provide your daily care. Medical professionals from many departments may drop by your hospital room for your care. These include imaging technologists, respiratory therapists, physical therapists, clinical laboratory medical technologists and many others. Our dietitians will oversee your meal selection to ensure your diet supports your recovery. We are pleased to offer an "At Your Request" dining service right in your hospital room, which gives our guests a wide selection of menu items tailored to meet dietary needs.
If you have any questions about your care or your hospital room, please ask your nurse or the clinical manager of the patient care area providing the service. We want your patient experience at CarolinaEast to be outstanding.
Showing you they care
To show you they care, friends and family may send you cards and flowers. These will be delivered by our wonderful volunteers to your hospital room. Our gift shop,The Camellia Boutique, also a volunteer initiative, features charming cards, fine gifts, flowers, balloons and personal products. Please keep in mind that flowers and fruit are not permitted in the critical care areas.
The chapel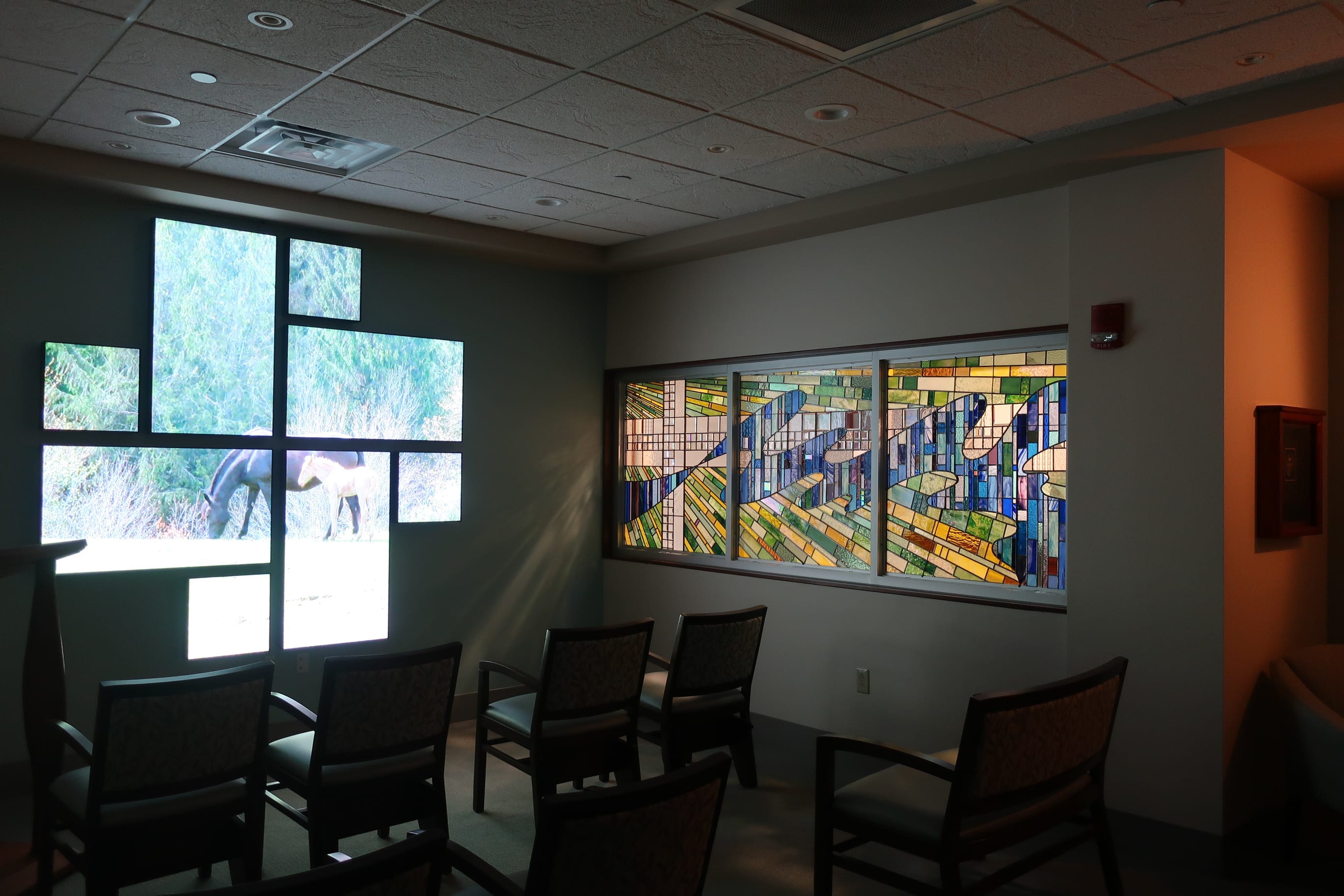 The Lula M. Disosway Memorial Chapel, located behind the visitor information desk near the main lobby, is open 24 hours a day for prayer, meditation and peaceful respite. All faiths are welcome.
No smoking
All CarolinaEast Health System facilities and offices are smoke-free campuses. Smoking is not permitted anywhere on the medical center campus, especially in hospital rooms, and any medical center owned/leased property, including CarolinaEast Diagnostic Center, CarolinaEast Surgery Center, CarolinaEast Heart Center (New Bern and Morehead City offices), CarolinaEast Urology Center (New Bern and Jacksonville offices) and CarolinaEast Internal Medicine (New Bern, Pollocksville, Vanceboro, Havelock, Cape Carteret offices).
Information on smoking cessation is available. Ask your caregiver to provide it for you.