CarolinaEast President and CEO Ray Leggett Receives 2020 Citizen of the Year Award From New Bern Civitan Club
Community news
|
Thursday, October 15, 2020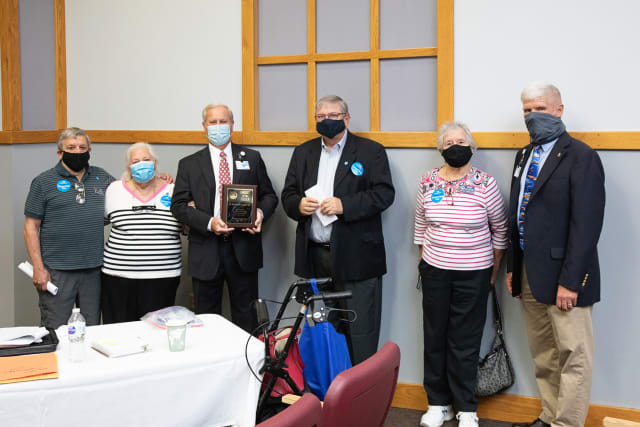 Contact: Brandy Popp
(New Bern, NC) – In a touching, surprise presentation on October 13, 2020, the New Bern Civitan Club recognized CarolinaEast Health System President and CEO Ray Leggett as the 2019-2020 Citizen of the Year.
Leadership from New Bern Civitan Club made the announcement amongst CarolinaEast's Board of Directors, senior leadership and Ray Leggett's family, surprising him as a secret agenda item at CarolinaEast's October Board Meeting. The award was presented by Civitan President Norma Judd, followed by comments made by Director James Findley. Findley described how "the current COVID-19 crisis has forced most of us to focus on ourselves and our health, but the one group of people that has stood out amongst the others who have put their lives at risk are the men and women of CarolinaEast Health System, who have never wavered in their service and dedication to our community."
In the midst of an international public health crisis, it seems fitting that the Civitan Club chose to honor the President of the hospital serving Craven, Jones and Pamlico Counties. However, Findley emphasized, "Ray Leggett's recognition is not just because of the manner in which CarolinaEast has responded to the pandemic that affects all of us, but also because of the stellar performance over the last several years that make our hospital and its people one of the outstanding health care programs in North Carolina."
Ray Leggett began his career with the organization in 1993 and has been the CEO for twelve years. He is not only a wonderful leader to the over 2,700 employees across CarolinaEast Health System, but is a long time New Bern resident who is also very active in the community and his church. Ray is quick to credit the success of CarolinaEast to the dedicated employees, physicians, leadership and volunteers that serve the organization in our community. In fact, he stated such at Tuesday's presentation: "Thank you, from the bottom of my heart. But truly, it's not me, it's all of them," as he pointed to his colleagues in the audience, "and the 2,700 others that answer the call every single day, no matter what."
Findley summed up the presentation appropriately with an accurate description of this year's recipient: "Ray is unassuming in his approach, but his effectiveness hits each and every one of us directly. We are a better community because of Ray Leggett's efforts". Indeed, we are.
The Civitan Club International organization began in 1920 and the New Bern chapter has also been existence for decades, consisting of various educators, businesspeople, county and municipal officials, and others with the common goal of improving our community. Their primary charitable focus is intellectual and developmental disabilities, as well as many local projects. Learn more about the New Bern Civitans at http://www.newberncivitanclub.org/index.htm.