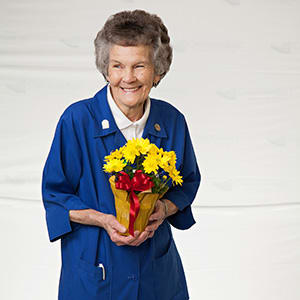 Simply put...CarolinaEast Health System could not do what it does so well without the generous support of our 400+ volunteers. Our volunteer program is unique among hospitals in that we have numerous groups you can join to lend a helping hand and smile. Many of our volunteers are members of more than one of our volunteer groups. Others share their special talents with our patients from home, handcrafting items for comfort and convenience. After completing the application process, prospective volunteers attend a daylong orientation designed to familiarize them with medical center policy and procedure. Volunteering at CarolinaEast Health System is truly a labor of love.
We make a living by what we get. We make a life by what we give. — Winston Churchhill
Volunteer opportunities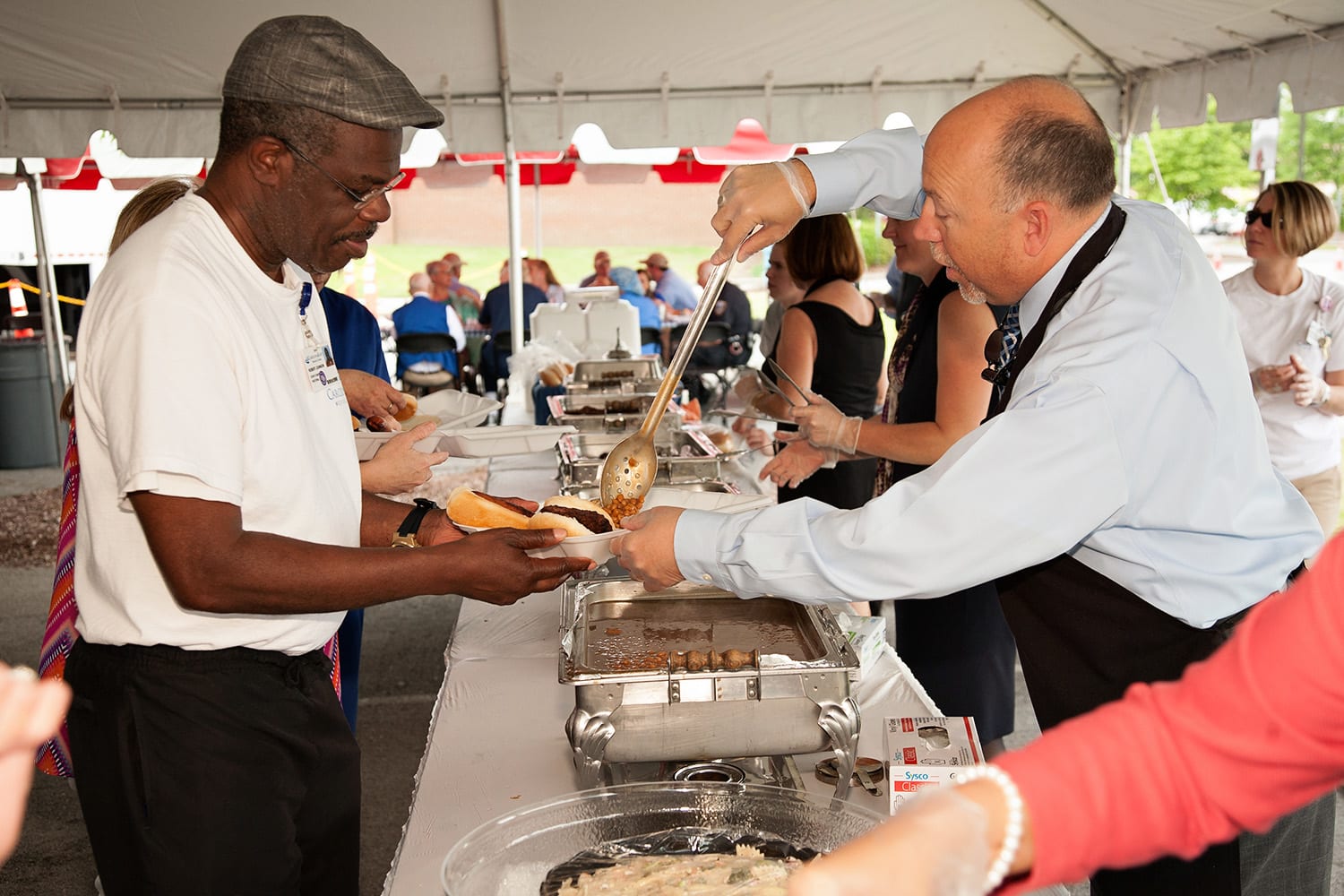 This group of compassionate volunteers has been serving CarolinaEast Health System and its patients since we opened our doors in 1963. Formerly affiliated with the American Red Cross, the CarolinaEast Health System Gray Ladies and Lads were proud to be the last civilian hospital-based group of Red Cross volunteers in the state of North Carolina. It was a Gray Lady who wheeled the first patient into the "brand new county hospital" over 40 years ago! To this day our Volunteer Transporters play a critical role in making sure patients arrive where they need to be to receive care. In addition to transporting patients, these volunteers are also responsible for patient mail and flower delivery and running errands for staff.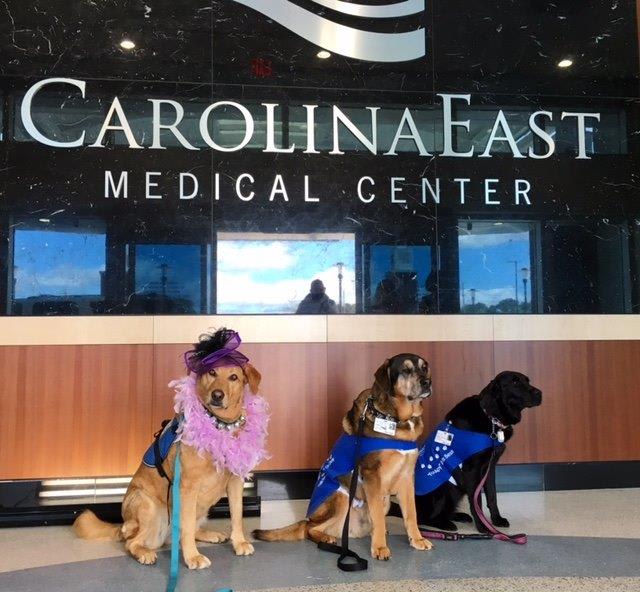 CarolinaEast is pleased to provide a canine visitation program, Thera-Paws: Furapy at Its Best. These canines have been trained, screened, and certified in the "AKC Canine Good Citizenship" Program and are gentle, patient and at ease with strangers. Our therapy dogs enjoy human contact and lots of petting and are comfortable around healthcare equipment. They serve in many capacities, including helping people with learning difficulties and assisting medical professionals in providing mental and physical therapy to their clients. Our Thera-Paws dogs are best known for bringing comfort, affection and happiness to patients, visitors and staff. In all their activities, our Thera-Paws provide unconditional acceptance to those they visit. View the difference between therapy, service and emotional support animals and which are permitted in our facilities here.
Student volunteers are enrolled in a healthcare curriculum which requires volunteer entrance or completion requirements. Most student volunteers work several hours per week for a specific length of time.
Library service volunteers provide reading materials for patients, guests, and hospital staff. They operate a small library on the first floor of the medical center next to the Jasmine Coffee Shop in the main lobby. Donations of books and recent magazines are graciously accepted by this group.
The Auxiliary is a separate entity from the hospital but is made up of Volunteers from the hospital, the Fairfield Harbour Auxiliary, and Carolina Pines Sewers and Crafters. Men and women in the auxiliary work in areas throughout the organization assisting patients and staff. Activities include clerical work, patient transportation, surgery waiting area family liaison, information desk and many other important tasks. The auxiliary also owns and operates The Camellia Boutique gift shop located on the main entrance corridor of the medical center. The Connect America Med-Alert System that serves homebound patients throughout the region is also under the capable administration of the auxiliary. This group sponsors a generous scholarship program for area students pursuing a career in healthcare and provides financial support for patient care initiatives. Both operationally and financially, the auxiliary support of the CarolinaEast mission is critical to our success as a healthcare provider.
Adjunct chaplains assist the medical center chaplain in making sure the spiritual needs of our patients are met. Adjunct chaplains are ordained ministers who are pastors of churches in our service area. Adjunct chaplains usually volunteer for at least four hours each month. The chaplain is responsible for overseeing and training these volunteers.
This very special group of women (men are welcome, too) work primarily from their own homes to enhance the patient experience. They handcraft adorable hats and booties for our newborn babies and comfort items for our patients such as lap blankets, surgery and mastectomy pillows which help relieve some of the pain experienced recovering from surgery or breast cancer, hand sewn muslin dolls that help doctors explain to young children what will happen during surgery, and fidget blankets for dementia and Alzheimer's patients. Both groups meet monthly to review projects and accomplishments and enjoy special friendships among the members. You don't have to live in Fairfield Harbour or Carolina Pines to be a member. Our groups welcome talented people from throughout the region.
Young people ages 16 to 18, many planning to pursue an education and a career in healthcare, assist with patient care and other patient-related duties throughout the hospital. They volunteer after school, on weekends and during the summer months.
Steps to becoming a volunteer at CarolinaEast
Volunteers can expect to have the same experience as all CarolinaEast employees who go through the hiring process.
Complete an online application or turn in a hard copy.
Pass a background check.
Complete a health screening, consisting of a TST (tuberculin skin test), MMR (measles, mumps and rubella) test and a drug screening.
Attend CarolinaEast orientation, held on the third Thursday of each month.
Interview for volunteer placement.
Commit to 75 hours of volunteering each year.
Join us!
For more information about CarolinaEast volunteer services, call 252.633.8127.