It's a simple commitment to everyone who builds a career at CarolinaEast Health System. In every department—in every location—we ensure that you are on the cutting edge throughout your career.
Pharmacy
The pharmacy department works with other patient care units in the health system to provide compassionate, quality care.
Clinical services provided by the Department include renal drug monitoring, drug interaction monitoring, patient care rounding, medication teaching, therapeutic drug monitoring, drug order review, disease state management, drug information support for care providers, and unit-based model for care delivery.
The Pharmacy Department is responsible for dispensing medications daily for an average inpatient population of 200 patients with additional services provided in the outpatient setting. Pharmacists, technicians, and numerous support personnel work together to assure patients receive efficient and high quality care. Among the services performed by pharmacy personnel are medication order verification, IV preparation, medication dispensing, chemotherapy preparation, compounding or oral and topical dosage forms, packaging of bulk medications, and filling of supplies for automated drug cabinets.
Clinical and distributive support is currently provided by:
Cerner Pharmacy MedManager
Cerner RX Stations (Automated Dispensing Cabinets)
Cerner Clinical Pharmacy Workflow
Lexicomp, Clinical Drug Information
Pharmopack Packager for unit dose packaging
Pharmogistics Carousel for inventory management
BarCode Medication Administration and Dispensing
Imaging Services Department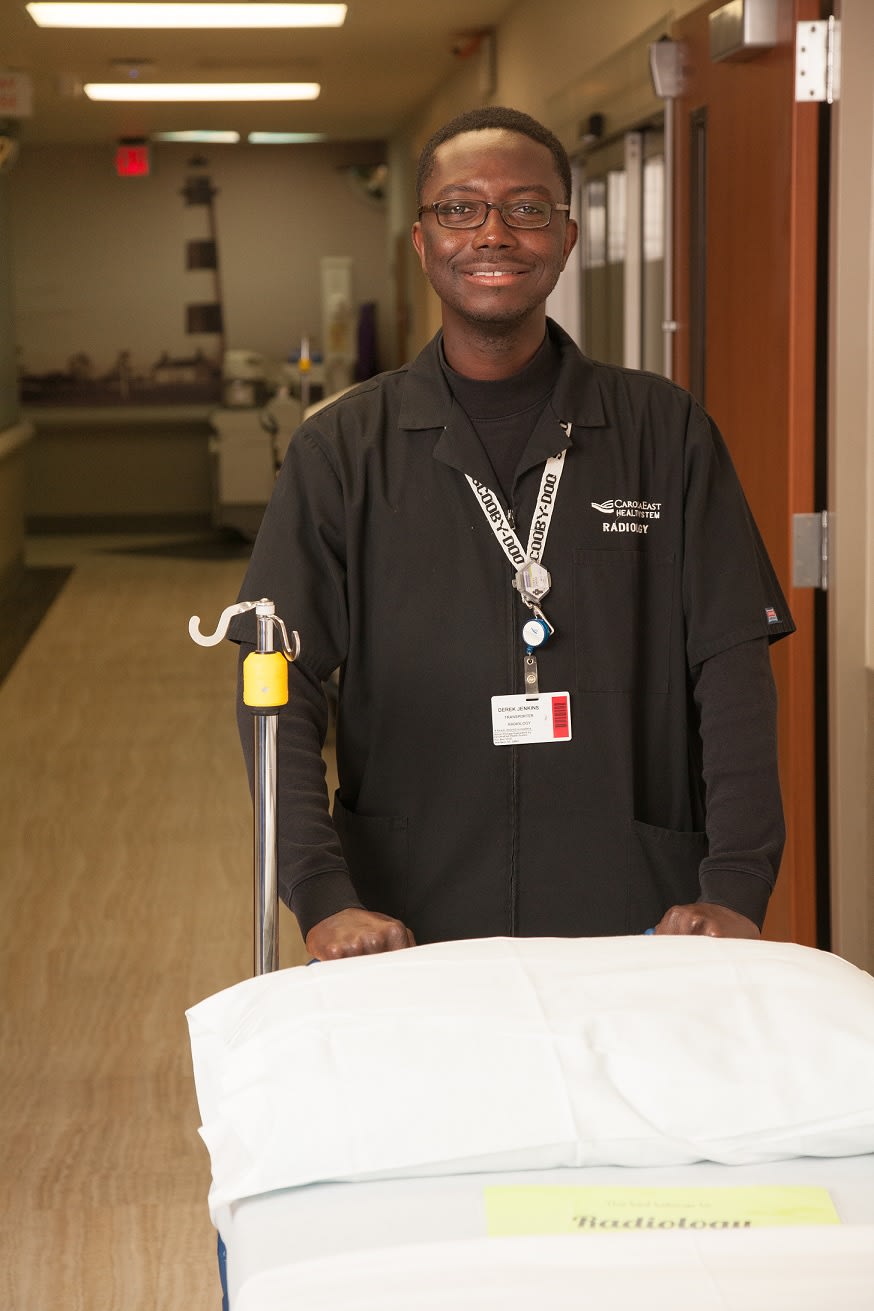 Working with the latest equipment—including a PET-CT, two state-of-the-art MRI systems (one at CarolinaEast and a second system at CarolinaEast Diagnostic Center), and PACS (picture archival and storage), our imaging department offers an environment that encourages teamwork and true collaboration. We also make sure we're adequately staffed so you can focus entirely on delivering outstanding patient care; and because students do rotations at CarolinaEast, you'll have the chance to share your knowledge with the next generation of imaging professionals. Our radiology department offers the latest in technology regarding diagnostic and interventional services. This includes x-ray, CT, ultrasound, nuclear medicine and angiography. The radiology department uses digital imaging throughout all modalities (film usage is no longer necessary.) Converting the entire department to a PACS environment has enabled us to add the most current technology. Computed radiography and digital radiography were added shortly after PACS was installed. All of these innovations have enabled radiology to manage and distribute images electronically.
Rehabilitation Hospital
This state-of-the-art center is designed to accommodate the needs of patients of all ages who require intensive therapies. Physiatrists, physical therapists, rehabilitation nurses, medical social workers, clinical psychologists, occupational therapists, speech therapists and recreation therapists team together to provide a truly comprehensive rehabilitation plan. Our interdisciplinary team approach employs a case management model to focus on the patient's individual, goal-oriented return to independent living. From the technologies you'll use to the professionals you'll partner with, it's a one-of-a-kind career experience.
The Surgery Center
This 24,000-square foot freestanding facility—designed specifically for outpatient surgery—offers the latest technologies and much more. Our goal is to provide our patients with convenient and compassionate care. We have six surgical suites providing ophthalmology, ENT, pain, orthopedic, urology, general surgery, OB-GYN, oral and plastic surgery services. In addition we offer separate adult and pediatric preop and post-anesthesia care unit, as well as family-focused waiting and clinical support areas. Our clinically advanced atmosphere results in consistently high patient and staff satisfaction levels. We also offer flexible schedules and an environment that puts people first.
The Diagnostic Center
CarolinaEast Diagnostic Center is a freestanding, state-of-the-art outpatient imaging center. Our goal is to provide our patients with convenient and compassionate care. The center provides digital radiography, magnetic resonance imaging (MRI), CT, nuclear medicine imaging, diagnostic and vascular ultrasound, digital mammography and bone densitometry. Additionally, we are the only imaging center in New Bern to offer stereotactic breast biopsies and needle localization procedures. We utilize the same PACS that is linked with CarolinaEast Health System, which allows all hospital staff to view images immediately. All of our imaging staff members are registered technologists. Our experienced nursing staff provides lab and EKG services in addition to assisting the technologists and radiologists with procedures. CarolinaEast Diagnostic Center has served the needs of the community since 1991, and we pride ourselves in offering our services in a timely and friendly manner: Because students do rotations at CarolinaEast, you'll have the chance to share your knowledge with the next generation of imaging professionals.
Cardiopulmonary services
Cardiopulmonary services consist of six departments featuring state-of-the-art technologies: respiratory care, pulmonary function lab, cardiac diagnostic lab, vascular lab, echocardiology lab, and EEG/sleep lab. Students regularly do clinical rotations in these areas, allowing our experienced employees to positively impact and invest in the future.
Health information services
Health information is critical to quality healthcare at CarolinaEast Health System. Providing timely and relevant information while protecting patient confidentiality and complying with regulatory and accrediting standards is the primary goal.
Laboratory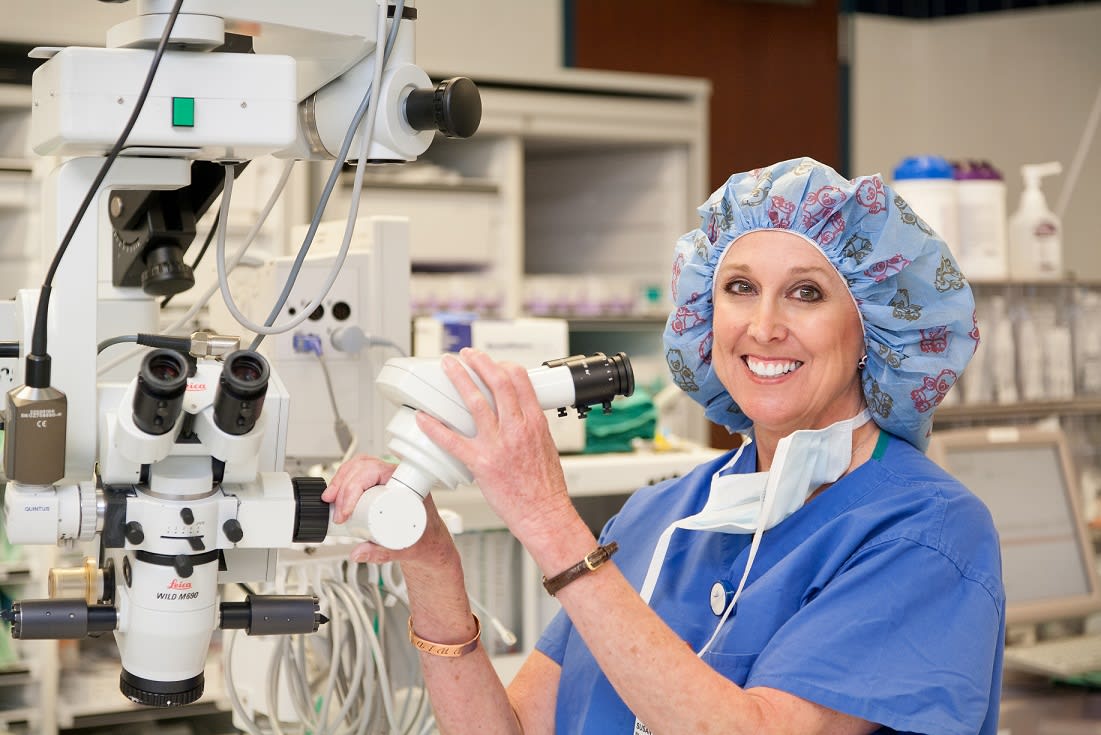 The laboratory employs approximately 60 professionals with over 700 years of combined experience and more than 500 years of combined service to CarolinaEast. Our laboratory professionals include histologists, histology/cytology assistants, medical technologists/medical lab technicians, phlebotomists, cytotechnologists, and histomedical transcriptionists.
Annually, more than 2 million tests are performed by our laboratory in various departments, including blood bank, hematology, chemistry, microbiology, histology and cytology. Our laboratory uses digital imaging for Pap smears and PCR (polymerase chain reaction) for detection of methicillin-resistant Staphylococcus aureus (MRSA), Clostridium difficile (C. diff), and Chlamydia trachomatis (CT) and Neisseria gonorrhoeae (NG), and a multiplex PCR system for the fast detection of co-infections as well as uncommon pathogens. State-of-the-art automated analyzers are used in chemistry, hematology and blood bank, to meet the workload demands of this fast-paced department. We're also committed to providing quality patient results and we strive to move forward as a laboratory, as well as a healthcare leader.